Here is a little bit of a weekend treat for you all (and for myself!)- the amazingly talented and totally swamped Julie Klassen took a few minutes of her time to answer a few questions for me! I am so excited to get to share this with you all!!!
1) What got you interested in writing?
I have always loved to read and, according to a 2nd grade report card, enjoyed writing from a young age as well. I have wanted to be an author for almost as long as I can remember, and reading British literature like The Secret Garden and Jane Eyre at a young age no doubt influenced my love of all-things-England and is probably why I set my own novels there now.
2) What is your main goal you wish to accomplish through your writing?
My goals are to tell a good story that will delight readers, and to glorify God.
3) Tell us a little about your current project:
I am working on galleys for my next book, called The Secret of Pembrooke Park. It has quite a bit of mystery as well as romance. My editors are telling me it's my best yet--I hope so!
The book releases in November and is available for pre-order now.
Here is a description:
Abigail Foster is the practical daughter. She fears she will end up a spinster, especially as she has little dowry, and the one man she thought might marry her seems to have fallen for her younger, prettier sister.
Facing financial ruin, Abigail and her father search for more affordable lodgings, until a strange solicitor arrives with an astounding offer: the use of a distant manor house abandoned for eighteen years. The Fosters journey to imposing Pembrooke Park and are startled to find it entombed as it was abruptly left: tea cups encrusted with dry tea, moth-eaten clothes in wardrobes, a doll's house left mid-play . . .
The handsome local curate welcomes them, but though he and his family seem acquainted with the manor's past, the only information they offer Abigail is a stern warning: Beware trespassers drawn by rumors that Pembrooke Park contains a secret room filled with treasure.
This catches Abigail's attention. Hoping to restore her family's finances—and her dowry—Abigail looks for this supposed treasure. But eerie sounds at night and footprints in the dust reveal she isn't the only one secretly searching the house.
As old friends and new foes come calling at Pembrooke Park, secrets come to light. Will Abigail find the treasure and love she seeks . . . or very real danger?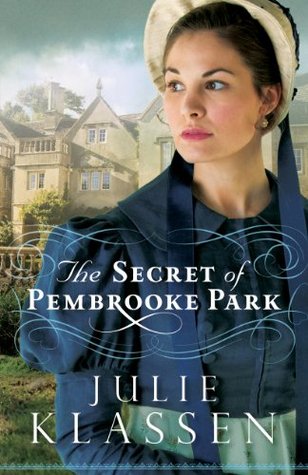 Be sure to put The Secret of Pembrooke Park on your Christmas list this year- it's sure to be amazing!!!
Thank you so much, Julie!
Have a wonderful Sunday, and God bless you all!